Home
Welcome to TranquilaTEA Tea Room and Gift Shop!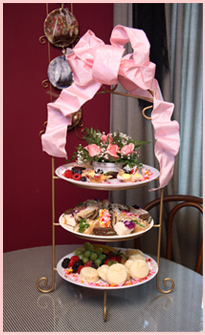 We would like you to be our guest, to enter our tea room and feel all the outside pressures melt away as you walk back in time. Taking tea is a pleasurable experience, engaging in intimate conversations and remembering the fond memories of childhood as little girls sit and giggle with their moms, trying to act so grown up, dressed in their finest.
A tea room promotes an atmosphere in which we can reacquaint ourselves with family and friends. In a world so full of overbooked calendars, to the demanding schedules that we keep, we all need a reprieve from the marathon we run. So come, sit down, relax, and be our guest. Tune out the hustle and bustle of the outside world and enjoy some TranquilaTEA.
Hours:
Tuesday 10am to 4pm
Wednesday 10am to 4pm
Thursday 10am to 4pm
Friday   10am to 4pm
Saturday 10am to 4pm    
Tea-Parties To-Go!
We first offered Tea Parties To-Go during the COVID-19 pandemic. Many of our customers loved the concept so much that we have decided to have them available permanently in addition to our normal dine in tea party experience. What does our carry out tea parties consist of? Everything our normal dine in tea parties include! For example, if you order a Queen Tea to-go, we box everything up for you from the soup to the scones (with lemon curd & almond creme!), sandwiches/savories, and desserts. You get your choice of tea, which we can either brew for you in a to-go cup, or package the loose leaf tea in a teabag for you to brew at your convenience at home! To order, simply call us at 717-765-8327 and let us know which tea party you would like, how many, and a pick up time. Then simply sit back and enjoy the delights of a TranquilaTEA tea party in the comfort of your home!
We are offering our full menu of tea parties to-go everyday we are open, Tuesday through Saturday.
We also provide our scones for sale by the dozen! A dozen scones is $14.99. Flavors subject to availability, call us at 717-765-8327 for more information!
We gladly accept walk in customers when space permits, but we highly recommend you call ahead to make reservations to guarantee a tea time for your party.
Please note we have a 24 hour cancellation policy. You must call us no later than the day before your scheduled reservation if you need to cancel or change your reservation's head count. Parties are responsible for the head count they reserve. Thank you.
Looking to do some shopping?
TranquilaTEA's gift shop is brimming with unique treasures and gifts! Not able to stop by the shop? Our online store currently carries our entire menu of only the finest loose leaf teas. With over 65 different flavors, there is something for everyone! Gift certificates are available in any denomination, stop by the TranquilaTEA gift shop or call 717-765-8327 and we can mail the gift certificate for you.